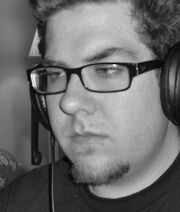 Jimmy Blocksom, or DJTyrant, was formerly a host on Orange Lounge Radio of STFU alongside DMN. He is 22 years old and a student at California State University, Channel Island; Majoring in Information Technology with a Minor in Game Design.
Username Information
Edit
DJTyrant is a combination of his older screenames that involved Tyrant in some way, an omage to the Star Wars TCG which has a card that is Star Destroyer named Tyrant. The DJ portion was tacked on when DJTyrant got into beatmaniaIIDX and thus was an aspiring Disc Jockey. He still would like to be a DJ at some point, but it is not at the forefront of his hobbies.
Industry ties
Edit
Jimmy worked for EBGames from October 2004 till August of 2007 to attend school full-time. He has also attended E3 three times in 2004, 2005 and 2006. Jimmy has also attended both BlizzCon's in 2005 and 2007.
Current Contributions:
General Info
Edit
Real first name: James
Age: 22 - DOB: 11/05/85
Sex: Male
Relationship Status: In a Relationship
Location: Ventura, CA United States
Occupation: Student. Assistant to Web Services at CSUCI.
Time Listening to Orange Lounge Radio: (regularly) Since late 2004, listened to the DDR tournament coverage in the early years (2002?)
Orange Lounge Radio
Edit
DJTyrant was co-host of STFU alongside DMN. The show was modeled in the same format of ESPN's Pardon the Interruption and had many guest throughout its run including Scott Raismoor (VGCats), MC Frontalot (In the Groove/Nerdcore), Robert Summa (Destructoid/GGL) and many others. The show disbanded because of scheduling issues and DMN's industry ties.
He is known to rarely listen to Orange Lounge Radio LIVE because of his raiding commitments with his World of WarCraft guild, so when he appears in the chatroom it is quite a rarity and a surprise.
DJTyrant has also contributed reports for Anime-Expo 2007 and 2008.
Current Games Playing
Edit
DJTyrant is a hardcore World of WarCraft player with a level 70 Night Elf Rogue on the server Cenarius. He is with the guild Focus who are waiting for Wrath of the Lich King to release to resume raiding.
Street Fighter IV (PS3)
Little Big Planet (PS3)
World of WarCraft (PC)
WipEout HD (PS3)
Mega Man 9 (Wii)
Final Fantasy III (DS)
Puzzle Quest (DS / PS3)
Dance Dance Revolution SuperNOVA2 (Arcade)
Game Systems Owned
Edit
Nintendo Wii
Nintendo DS lite
Playstation 2 slim
Japanese Playstation 2 (fat)
PC
Playstation 3 (40GB)
Planned
External Links
Edit
Community content is available under
CC-BY-SA
unless otherwise noted.